Laundry
Clever drying solutions for your laundry
By
With backyards becoming smaller and a rise in apartment living, the iconic Hills Hoist in the centre of the backyard is becoming a rare sight. With compact clotheslines mounted literally on the fence line, you might not want your racy lacies swinging in the breeze for your neighbours to see. Luckily, for the fussiest of hand-washing fans, Miele's superior drying solutions cater to the finest and fluffiest of fabrics. Their dryer programmes include delicate fabrics like silks, woollens, denim, the finest of synthetic fibres, to more rugged outdoor clothing.
However, every practical laundry should also include air-drying options that complement your laundry design – and might help reduce your electricity bill too. We've investigated the most stylish and functional of options for you.
A hanging rail between upper cabinets is perfect for drying washed items on hangers, and storing ironed items.
Built-in drying racks are a perfect solution to save valuable floor space. They are designed to fold flush against the wall until they are pulled down for use.
Image credit: Houzz – Photo by Jane Lockhart Interior Design
These custom-made drying drawers are another space-saving option for hanging or draping knitwear to dry. The concealed design keeps your laundry streamlined.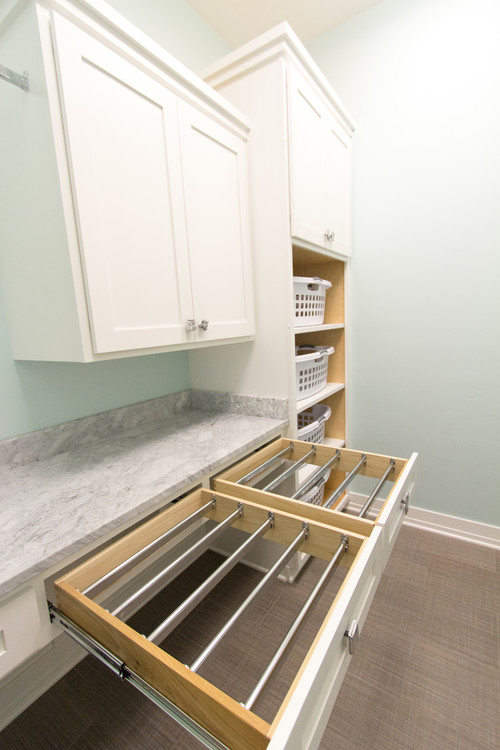 We particularly love this concealed mesh drawer and hanging rack combination, especially practical for flat-drying your wet winter woollies.
A wall-mounted, accordion style clothesline is both space-saving and practical. This style does not necessarily have to be custom built. Different DIY versions are available at home storage stores like Howards Storage World.

Image credit: Houzz – Photo by Erika Bruder Interior Design LLC
There are a multitude of portable drying racks in every size and shape to suit your space and budget. The advantages are portability and most can be folded flat. The only disadvantage is the floor space they take up during use.