The Experts
Creating an authentic exterior for a Hamptons style home
By
In this video, Deborah chats with Hamptons design expert Natalee Bowen about creating a traditional exterior for a Hamptons inspired home. Some of the key elements are:
Weatherboard or shingle cladding
Hamptons houses are clad in weatherboard or shingles. Shingle siding (cladding) is used more in American-style Hamptons homes (see second photo below) and weatherboard more prevalent in Australia. Both create a summery, coastal look, and are timeless and classic. Traditionally timber has been the only option to create the weatherboard look, however the clean lines of Scyon Linea™ is an easy, durable way to get that same classic look without the maintenance needed for timber. Scyon Linea™  is an advanced lightweight cement composite which is strong, easy to cut, low-maintenance, and resistant to termites and rot.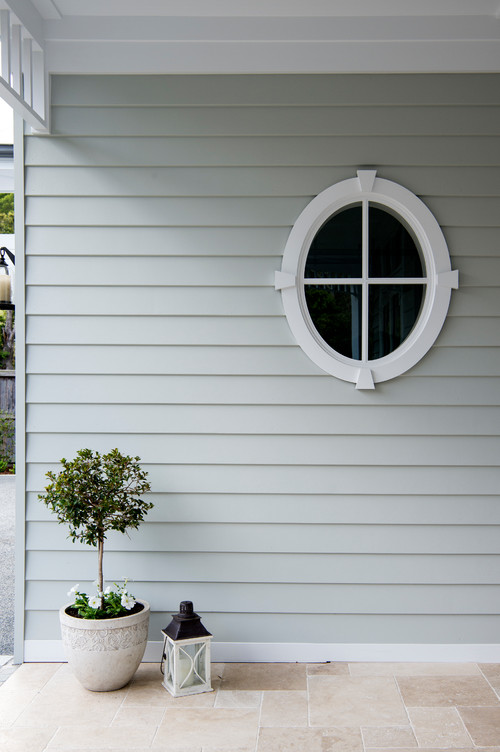 Windows
The traditional styles are all designed to allow as much natural light in as possible. You will often see 12 light windows giving a French door look and transom windows which allow in additional light.
Traditional mulit-paned window with a non-opening transom window
Stone
Stone cladding is used as an exterior detail, commonly used for a single wall area on the façade (see photo below), the external walls of the fireplace and chimney, stairs, or patio.
Colours
Traditionally, a Hamptons colour scheme is comprised mostly of variations of white and neutral tones with accents of grey and blue used as complementary shades.
"Getting the colours right is a big part. You can have a little bit of fun by colouring up the front door, and having some gorgeous hardware – all those little elements. Also bringing in landscaping to actually bring the whole look together."
Special details
Hamptons inspired exteriors use meticulous detailing and embellishments like beautiful balustrades, decorative window mouldings and pillars.

Image source: Indah Island