Advice and learnings
How to choose a splashback for an all-white kitchen
By
An all-white kitchen doesn't have to be clinical and boring. Regardless of trends, white will always be the universal base to add pops of colour, personality, and style. We've gathered some great options and expert tips to help you choose a stunning splashback for a white kitchen.
The first step – consider proportion, visual intention and adjoining spaces
The term 'statement splashback' applies to a large area of splashback treated as a visual design feature in the kitchen. As one of the first things you see when you walk into the room, and not a feature that would often be changed, choose carefully. Of course not every large splashback has to be a statement feature. Your taste may be more subtle and neutral. Alternatively, a modestly sized splashback, commonly behind the stovetop, can also be a treated as a stand-out design feature.
When selecting a splashback, consider the following:
– will it compliment other elements in your kitchen? (eg. cabinetry, appliance colours and surfaces, tapware and handles)
– will it create a balanced, cohesive look for the surrounding rooms?
Natural or reconstituted stone
Many contemporary kitchens use the same stone on both splashback and benchtop. It's a sleek, more minimalist look and can create an image of sophistication and luxury. Stone such as marble can be honed or polished. Honed has a softer, satin finish and polished is shinier and reflects light. Marble kitchen surfaces, in particular, must be sealed to prevent staining. Stone splashbacks required minimal grouting.
Tip: As polished marble tends to show stains and scratches; honed marble is a better choice for splashbacks and benchtops.
Good quality reconstituted stone such as Caesarstone, is an equally stunning alternative and practical option to natural stone. A Caesarstone splashback is low maintenance, virtually non-porous, resistant to mould and mildew and has an impressive range of colour choices.
Tip: Reconstituted stone cannot handle high heat and should be installed at a minimum distance of 250 millimetres from a gas stovetop.
Glass
Another sleek, minimalist option, glass splashbacks are always popular as they're hardwearing and easy to clean. There are nearly as many different colours for your glass as there are in a wall paint swatch. Another option is a textured pattern on the back of the glass, but a smooth face. See the interesting combination below of timber, covered in glass.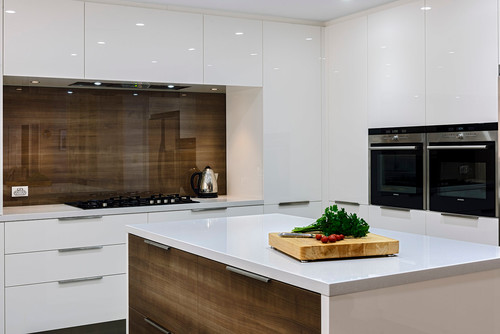 Patterned tiles
The popular trend for patterned tiles, geometric and penny round tiles shows no sign of slowing down any time soon. If you're not one for choosing by trend or find this look too detailed, there are plenty of alternatives that will look gorgeous in a white kitchen. Consider creating a subtler effect using plain tiles in a different layout to create a pattern. e.g. herringbone pattern.
Tip: Using a contrasting grout (e.g. white tiles with dark grout) is an easy and cost-effective feature.
Large format tiles
Large floor tiles (e.g. 600 x 600mm or 300 x 1200mm) are becoming more and more popular for splashbacks, and smaller floor tiles are popping up too.
Tip: The grout in tiling behind a stovetop or sink area can become stained and discoloured after time. Choose epoxy grout for this area – it's stain-resistant, which means less cleaning, or a grout sealant.
Metallics
The stainless-steel splashback is a sleek contemporary look, but an emerging splashback trend is pressed-metal which can make a very glamorous feature in your kitchen. There are also pressed-metal look tiles available in subtle shades of white, grey, charcoal and blue that look great in white, provincial-style kitchens.
Glass window
The glass window splashback is a popular choice for architects as it's also a source of natural light into the kitchen. It commonly appears as a long rectangular window along the benchtop, looking out to a lovely view. As the eye is drawn straight to the outside, it can help the kitchen appear larger. Being glass, they are easy to clean and have no grout lines.
Tip from the author who learned the hard way: If your kitchen sink location looks out of the glass window, choose your kitchen tap carefully to minimise constant splashing onto the glass. Before you know it, that stunning glass window splashback will be covered in spots and smudges.